As festive seasons are approaching plus CNY is coming, it reminds me of my most dreaded task -spring cleaning. I have decided to change my usual working style by drawing up schedule targeting at different area bit by bit so that it wun be too
shiong
trying to complete everything within 2 to 3 days. However, this new style gotto start early or else I wun be able to complete everything in time. Since it is inevitable, starting early is good too. Perhaps age is catching up, I realise I dun hv much stamina. Oh well, this bit-by-bit method is good, can see certain things are done. Though not as much satisfaction as finishing everything at one-go, at least can have peace of mind seeing lesser items to be cleaned on checklist.......kitchen outerior checked, all fans checked, toilet checked,
hmm....
.curtains need to be changed since ladder is out of the storeroom already.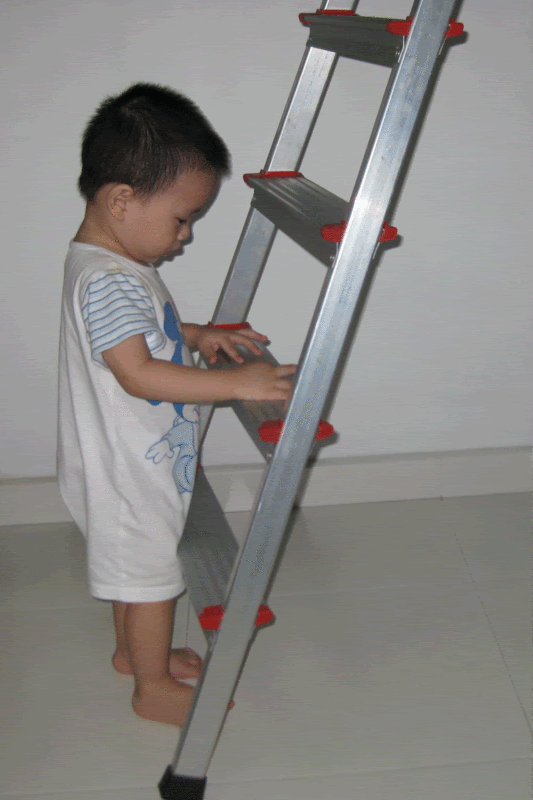 OMG! Look at my sonny Denz, he thot no one stop him so he became so
garang
..... things like climbing up a ladder dun need people to teach, then things like asking him to keep his toys need to train so hard then will achieve result....
.sigh
. Anyway I think I noe the real reason for not having sufficient stamina
le
. I dun even have enuf time to sleep so dun even think of luxury 'peaceful' time at home to clean up. That is why this new strategy works rather well as I dun feel as stressed and tired that easily. 頑張って下さいbaby (for both sonny and me) :
p