I took a 1/2 day leave intending to go for some Spa-destress program but went out with HB in the end. See what my sweet HB has bot for me? Something he hated so much......YES! Durian-related product. Hahaha...
I merely mentioned to him over the phone b4 we met up that I wanna buy the Durian Combo 5 as the promo was ending soon and there he was going ahead to buy it giving me a surprise.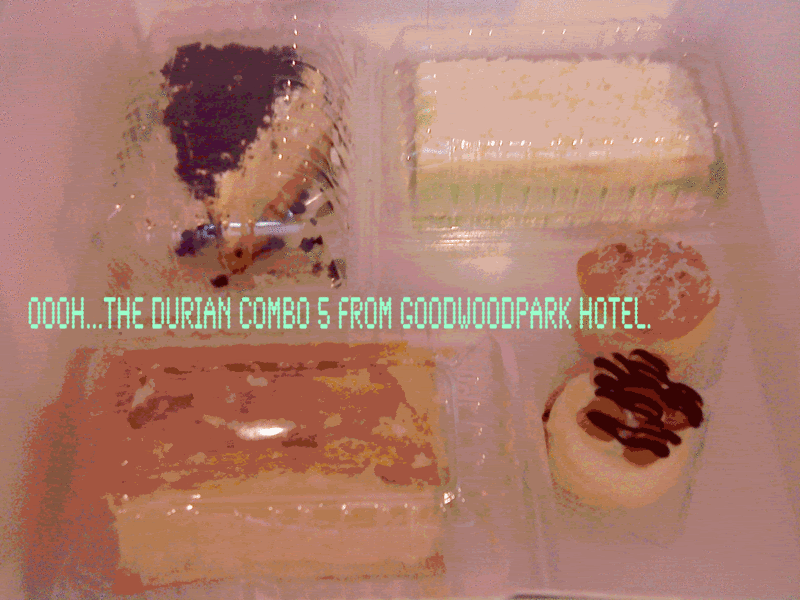 Awesome wasn't it? I was so spoilt for choice, 5 different types of durian pastries. I finished the puff and tart right away. Yummy... love everything to bits. :p
We went to catch a movie after a late lunch.
I wanted to watch Street Fighter - The Legend of Chun-Li. *sigh* The movie was kinda disappointing with no street fighter cutie costumes and the whole movie was a lil' draggy. The storyline is simply bull-shitting a lil' "run-out-of-idea" with 80's style of filming. The whole setting looks like a low-budget production. The only goodie you can see was Chun-Li and Nash. I'd expect to see Ryu and Ken in ter but "NO".
HB gave an even harsh critic. Speaking about Street Fighter movie, the above is a better movie.
The costumes in the movie was fabulous. Every street fighter character was in there.
We went to PS after the movie. It has been some time since we last step into PS jalan-jalan. The highest level, which is the cinema level is HB's Heaven. There were few stores selling toys and collectibles sprouted during the past months and HB was elated.
We were browsing in one of the stores and I found a pink 'Haro'. I have decided to 'adopt' it home and hence HB went to do the necessary document processing. (",)
We rushed home to celebrate nephew, Ben's birthday after which. Think hb will re-visit PS again very soon....